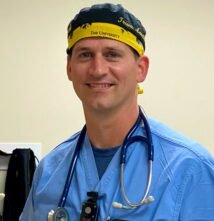 Dr. Thomas Carroll Jr. graduated from Arizona College of Osteopathic Medicine in 2012. He trained at the University of Iowa Hospitals & Clinics in Anesthesiology.
He is originally from the Sioux City area and grew up attending Bishop Heelan Catholic High School.
Dr. Carroll and his wife, Annie, have 4 school age children. In his free time, he enjoys exploring the different national parks out west with his family.