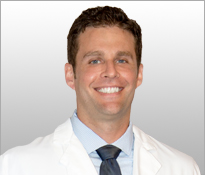 Dr. Carreau completed his fellowship in Orthopedic Sports Medicine at the University of Iowa. He is an avid fisherman and outdoor enthusiast with his wife and four children.
Born in Colorado, Dr. Carreau attended Colorado State University for his undergraduate education and later attended medical school at Omaha's Creighton University. He completed his orthopedic surgery residency at the University of California, San Diego in 2015, where he also received extensive training in adult and pediatric trauma and joint replacement surgery.
He completed his fellowship training in Sports Medicine at the University of Iowa, where he was trained by national leaders in the practice of advanced arthroscopic techniques, cartilage transplantation, shoulder instability, patellofemoral problems, ligamentous injury of the knee and shoulder replacement surgery. At the University of Iowa, Dr. Carreau was also physician to the Hawkeye Football Team during their historic 2015 season.
Currently, he acts as the Wayne State team physician and assists with multiple high schools. Additionally, he has published papers on various orthopedic topics and is a member of the American Academy of Orthopedic Surgery, the American Orthopedic Society for Sports Medicine and the Arthroscopy Association of North America.