We offer flexible payment plans, consumer financial counseling,
 and financing through BHG Patient Lending
Billing & Insurance
Our billing office is committed to providing you with specific information you need regarding billing and insurance services. We want to ensure that you receive the maximum allowable benefits from your medical insurance.
Our staff can inform you if our facility is a provider with your PPO, HMO or other insurance plan. The billing department can also provide you with information regarding your account history.
Prior To Your Procedure
Contact your insurance representatives prior to your surgery to find out if your procedure requires a prior authorization or pre-certification when being performed at our Ambulatory Surgical Center.
Your insurance company may pay a smaller portion of your medical expenses for the surgery if you do not pre-certify or comply with other insurance company requirements.
Payment Arrangements
If you do not have insurance and/or would like to set up payment arrangements, please contact our billing office at 844-716-1509.
If your surgery is covered by Worker's Compensation we need to have all of your information at the time surgery is scheduled. The information we will need includes your Worker's Compensation Carrier, their address, phone number and a contact person. You or your employer will also need to get a claim number from your carrier.
We Accept These Forms of Payment
Cash, Check, Money Order, Visa, MasterCard, Discover Card and BHG Lending
Pay Online
        Financing with BHG Patient Lending
(apply with our billing office at 844-716-1509)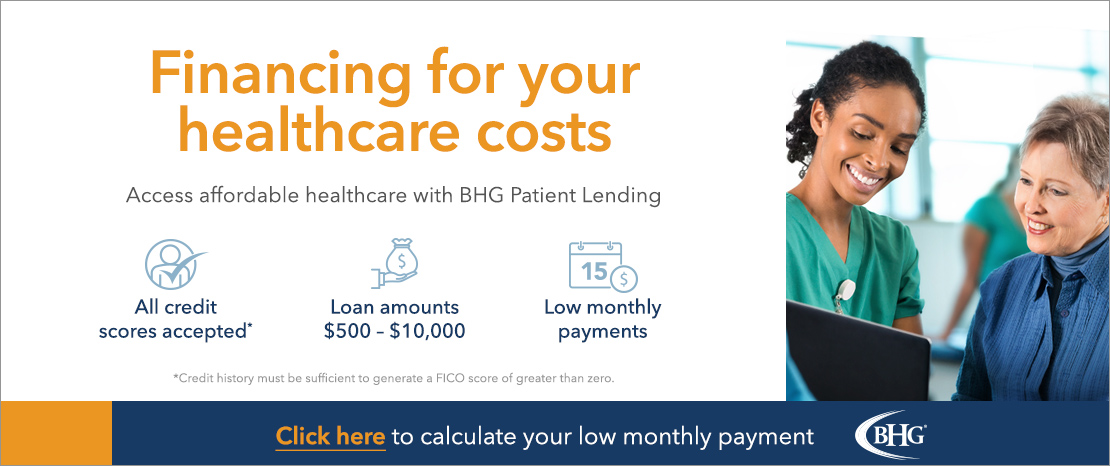 With BHG Patient Lending, our patients have access to easy, flexible financing to cover out-of-pocket healthcare expenses.
Program Features:

All credit scores accepted*
Loan amounts $1,000 – $10,000
Flexible monthly payments
Multiple repayment term options
Fixed, low annual percentage rate
No pre-payment penalties
*Credit history must be sufficient to generate a FICO credit score of greater than 0.
Billing Office Hours
Monday – Friday 8 am to 5 pm
For Assistance Call the Billing Office at (844) 716-1509